Aboriginal and Torres Strait Islander Health Worker and Practitioner Excellence Awards
About the awards
Aboriginal Health Workers and Aboriginal Health Practitioners are the essential conduit between traditional and western health services. They are critical to closing the health gap by delivering culturally safe, holistic and client focused care in often challenging circumstances and locations.
The awards are an opportunity to showcase outstanding members of these professional groups, recognising and acknowledging the significant contribution they make to their families, communities and to the NT healthcare system.
Congratulations to this year's deserving recipients
Student Award – Advanced Studies
Winner: Onika Paolucci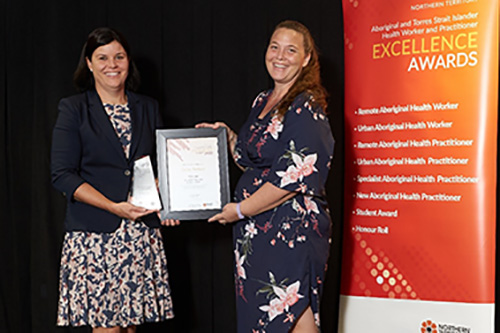 Onika Paolucci is a proud Iwaidja woman (East of Cobourg Peninsula) and lives in Darwin with her husband and four children.
Onika is a registered Aboriginal Health Practitioner and works with the Department of Health in the Renal Home Therapies where she provides Chronic Kidney Disease and early dialysis education, more recently co-leading the New Start Dialysis Transition Program. Onika commenced her studies for the Diploma in Aboriginal and Torres Strait Islander Primary Health Care Practice in May earlier this year.
Onika has received ongoing support from her work colleagues to help balance the challenges of full time work and family commitments. Onika firmly believes all work areas need to have Aboriginal and/or Torres Strait Islander Health Practitioner on their team to ensure that our mob are receiving culturally safe, respectful care through knowledge sharing and understanding.
Student Award – Emerging Health Practitioner
Winners:
Makisha Tilmouth and Clinton Washington
Highly commended: Luke Ellis and

Cassandra Daniels
Makisha Tilmouth
Makisha is an Arrernte woman from Central Australia. Makisha lives in Alice Springs with her two children.
In March 2019, Makisha commenced as Aboriginal Health Practitioner (AHP) student trainee, with Central Australian Aboriginal Congress (CAAC). Makisha faced many challenges with balancing work, family, other commitments, and dealing with some personal struggles throughout her studies however Makisha has now completed and it has been a rewarding experience.
Makisha aspires to a career in health as an Aboriginal Health Practitioner and be a role model for her children, family and community. Makisha is awaiting her AHPRA registration.
Makisha would like to thank all those who supported her throughout her traineeship – lecturers, mentors and colleagues at CAAC and her family who have been amazing especially her Mum Gloria and Dad Graham.
Clinton Washington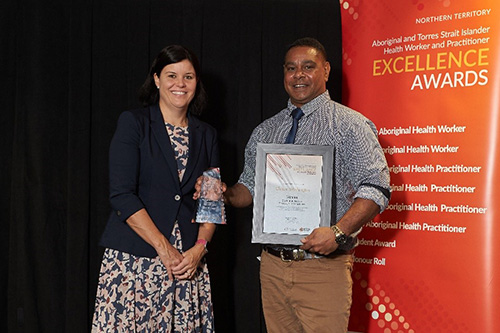 Clinton is a proud Kamilaroi man born in Mungindi (NSW/QLD). Clinton lives in Darwin with his wife and two daughters and is currently working at the Palmerston Community Care Centre. Clinton's personal experience has given him more insight into health and realised how much he needed to learn.
Clinton believes it is very important for all Aboriginal people to understand how to improve their health and decrease their risk factors, getting the younger generation involved can only benefit the health outcomes of Aboriginal people. He has already recommended to his friends and family to consider training as an Aboriginal Health Practitioner.
Clinton has appreciated the hands on approach of the clinical training which has left him wanting to learn more and continue the ongoing relationships his built within the local community through his role.
Cassandra Daniels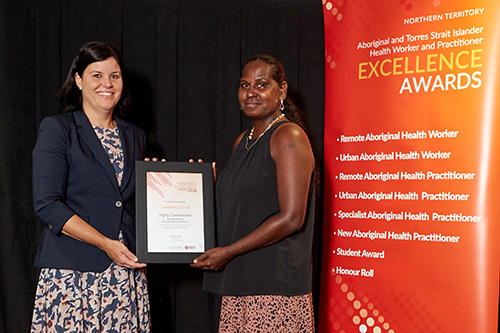 Cassandra (Cassie) is from the Tiwi Islands and lives and works in Milikapiti community with her children. Cassie enjoys the community life of fishing, hunting and swimming.
In 2018, Cassie commenced as an Aboriginal Health Practitioner trainee at the Milikapiti clinic and has formed great working relationships with her colleagues whom she considers to be close family and friends. Cassie is proud to provide primary health care on country and to her community.
Cassie would like to thank her family and friends their support and a special thank you to her colleagues and manager for their encouragement and support throughout her studies.
Luke Ellis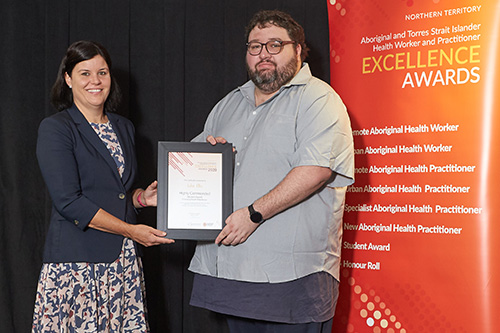 Although Luke was born in Perth, he grew up in Katherine and since late 2019, Luke has worked at Wurli-Wurlinjang Health Centre.
At Wurli, Luke worked in various roles such as bus driver and receptionist and was excited to undertake an Aboriginal Health Practitioner traineeship when the opportunity arose. In 2020, Luke commenced and completed the Certificate IV in Aboriginal and Torres Strait Islander Primary Health Care.
Luke would like to thank all work colleagues at Wurli for their support and looks forward to starting his career in Health.
Further information
Thank you to all of you who continue to support the awards by taking the time to nominate your peers. A special mention to our partners the Australian Government Department of Health, Rotary Club of Darwin Sunrise, United Voice, Aboriginal Medical Services Alliance Northern Territory (AMSANT) and the National Aboriginal and Torres Strait Islander Health Worker Association (NATSIHWA).
For more information about the roles of the Aboriginal Health Worker and Aboriginal Health Practitioner, please read the Factsheet.
For more information about the awards contact Aboriginal Workforce Development on (08) 8999 2999 or ATSIHPexcellenceawards.doh@nt.gov.au.
The term Aboriginal refers to Aboriginal and Torres Strait Islander people.
Print all pages in this section
Last updated: 21 June 2019
Share this page: